10 Best Real Estate Closing Gifts That Wow (& Are Memorable)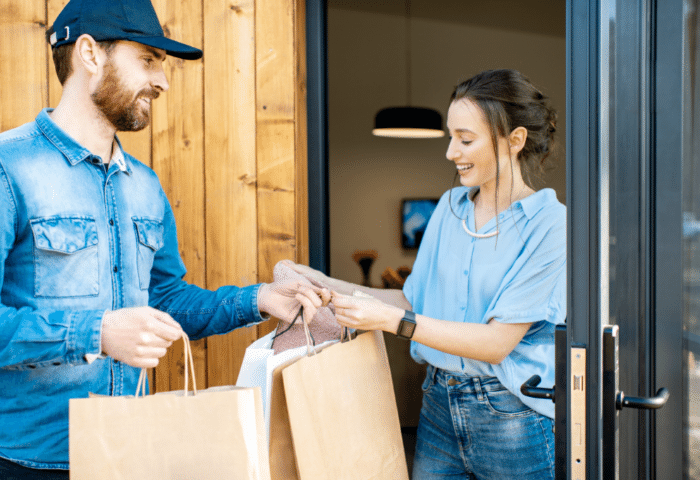 Are you looking for a memorable real estate closing gift for your client? What will be your perfect real estate closing gift to leave that lasting impression on your seller or buyer?  Learning how to pick the right closing gifts for your clients can significantly change your future relationship with them, build your sphere of influence, and get you referrals.
Hearing the words "it's done!" is magic to a real estate agent's ears. And now you're looking for a unique closing gift to thank and congratulate your buyer or seller, or are you?
Unfortunately, some realtors think that closing gifts are not important, that it's an unwarranted extra expense, and that it's a waste of time.
But, if you'd like to generate more income in the future with the client, or friends, acquaintances, or colleagues of the client, then you might want to try a different approach.
Now, that doesn't mean you need to spend oodles of money on a gift – there's probably going to be some consideration of how much commission you got and the number of work hours involved.
[insert picture] Closing Gifts Thank You
Below you'll find popular and unique buyer closing gifts. Because after all, you want to celebrate and thank your seller or buyer for their business.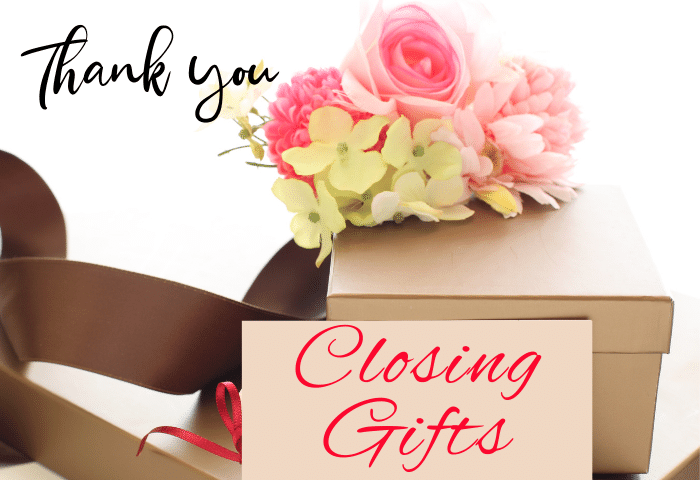 Here are the 10 best gifts from a realtor for 2022:
1. Fruit Gift Basket – This gift basket includes a selection of fruit on a heart-shaped bamboo serving tray
Perfect gift for those who don't have time to pick up a gift and drop it off to the client. It can be ordered online and delivered to the doorstep of client. View the item to see what it looks like.
2. Shortbread Gourmet Cookies Gift Box – These cookies have AMAZING REVIEWS.
Surprise your client with these unique, gourmet cookies sure to appeal to any cookie lover. Packaged in tin, gift box, pail, or tray, and delivered to the buyer's home. Plus, join their Corporate Cookie Gifts to customize the gift by adding your custom logo on the tin or box.
3. Beautiful Decanter Gift Set – This classy set will surely impress your client and they'll always remember you.
View the item we liked on Amazon.
4. Beautiful Flameless Candle Set – This LED candle set with moving flame is a great gift for those who especially purchased a home in the months when the leaves have begun to change, and the cold weather months have set in.
This buyer-closing gift is good for anyone looking for an alternative way to create ambiance without the need for flames. It's especially favored by pet owners, retirees, and seniors because of the safety factor alone.
View the flameless candle set we liked on Amazon.
5. Striking Aromatherapy Gift Set – This Aromatherapy essential oil diffuser and gift set has it all – and then some.
After closing, this is for your client who loves to slow down after a long day at work by turning on this diffuser to unwind and relax.
View our favorite aromatherapy diffuser gift set.
6. The Vacuum That Does It All – The iRobot Roomba 614 vacuum does it all and once set up will do almost all the work of cleaning, which frees your client's hands and gives them more time to do other things.
If the house your client moved into has carpet, they will appreciate this thoughtful gift by having their home vacuumed with minimal to no effort on their part.
This is by far our favorite iRobot realtor closing gift.
7. Nest Hello Smart Doorbell – The smartest doorbell in 2022! Buy this as a real estate closing gift for your new homeowner and they will be able to see who's at the door from their phone.
View the item we liked on the Google store.
8. Lobster Delivered Straight To Your Seafood-Loving Client's Front Door – This gift is ideal for seafood lovers. No matter where your clients are, the lucky client will enjoy a fresh lobster dinner from Maine.
To see the delicious fresh lobster dinners.
9. Coffee Lovers Gift Box –These coffee gifts are especially memorable for the client who has almost everything. Bean Box hand-picks coffee from world-renowned roasters and packages it in a gift box. Your client will be sure to thank you and think of you with every sip of java.
View the coffee gift box on Bean Box.
10. Extraordinary Belgium Chocolate Gift Box –If your client likes chocolate, then a box of Belgium chocolates from a company whose been in the chocolatier business since 1912 is a way to make a memorable impression.
Surprise your client with this exquisite box of chocolates in an elegant gift box. View the selections of Belgium gift boxes.
Great closing gifts are thoughtful, personable, and remind your client that you are the local real estate expert they can count on in their future real estate needs.
By choosing carefully, and taking into consideration your client's likes, you might just help to create a raving fan for life!
Receiving a gift from a realtor at closing is one small way to make a lasting impression.
What client gifts do you like to give? What are some buyer-closing gifts you've given in the past?